Expanded Metal Grating for Secure Walking
Expanded metal grating is manufactured by piercing and stretching the metal sheet in one operation creating anti-slip surface with diamond openings. The anti-slip surface offers safe foothold to stand and walk, and the openings provides free passage for unwanted materials, also gives an aesthetic appeal for design. Expanded metal grating has thicker strands than normal expanded metal sheet, which in turn affords it large load bearing characteristics.
Expanded metal grating is excellent for slopes due to its anti-slip property.
Feature
Diamond openings allow free passage of air, sound, heat and light.
Superb strength to weight ratio.
Tested load bearing capacities.
Anti-slip properties suitable for applications where safety underfoot is critical.
High corrosion and abrasion resistance.
Cut to size service is available.
Specification
Material: stainless steel, aluminum, carbon steel, galvanized steel.
Opening shapes: hexagon, diamond.
Popular dimensions (cut to size service is available):

Overall thickness: 0.2" - 0.87".
Sheet size: 96" × 72", 96" × 48", 120" × 48".
Open area: 48% - 77%.
Note: when ordering expanded metal grating sheet, list the SW first, for example, 4' × 8', 6' × 8', and we also offer cut to size service.
Expanded metal grating is available in the two popular types, which are different in opening shapes.
Standard flow expanded metal grating and reverse flow expanded metal grating
There are two ways for expanded metal grating, SW is measured paralleled to the short way of the diamond opening.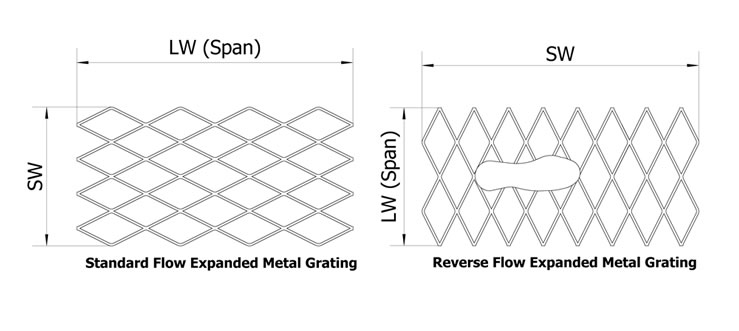 Two styles of expanded metal grating, and the SW and LW measurement identification help you select proper grating.
Application
Expanded metal grating is the most economical way to assure strength, safety and non-skid surface, which is ideal for use on stair treads, plant runways, road crossings, wheelchair ramps, catwalks in commercial, industrial areas. And it can be cut into irregular shapes for different applications and can be installed quickly by welding.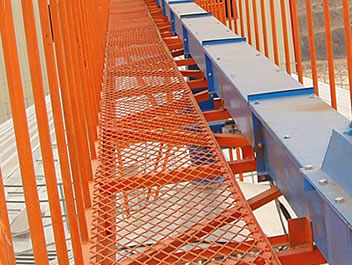 Expanded metal grating is often used on the building site, where constructors can walk across.
Large quantities of expanded metal gratings are ready to be transported.
Inquiry for Our Product
When you contact us, please provide your detail requirements. That will help us give you a valid quotation.