Expanded Metal Lath Creates Durable Bonding Plaster
Expanded metal lath acts as a versatile base for cementing plaster walls, ceilings for internal and external applications, so it has another name: plaster mesh. It is manufactured from prime quality steel sheet which is slit and stretched to form large number of small diamond openings, providing more plaster keys than any other lathing material.
As is known to us all, cracks of buildings are usually caused by seasonal changes in humidity. To avoid cracks that may cause a lot of trouble, expanded metal lath should be taken into account when plastering walls, floors or ceilings. It can be used for absolutely all flat or curved surfaces of concrete, brick or wood, reinforcing the plastering materials to prevent cracks.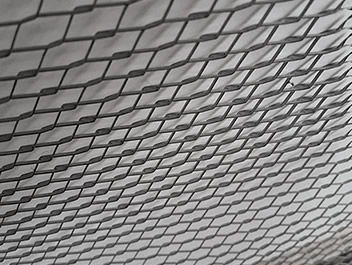 One piece of expanded metal lath, its ribbed surface offers the most adhesion to the plaster.
Expanded metal lath is first put against the brick, then plaster them evenly in construction.
Feature
It can be used for wall, ceiling, floor construction.
Stable openings for not easily moved by external factors.
Working with plaster for anti-shock and anti-crack.
Extensive range of options to suit any application you may have.
Specification
Material: stainless steel, galvanized steel.
Thickness: 0.5 mm - 1.6 mm.
Design sizes (mm): 7 × 15, 8 × 20, 9.2 × 28.6, 12 × 30, 16 × 40, 17 × 45, 18 × 50.
Classification: according to different purposes, expanded metal lath comes in four types - sheet lath, coil lath, corner lath, strip lath.
Size examples:

Sheet sizes (width × length): 70 × 250 (cm).
Coil lath:
(Small coil) Width: 10 cm, 15 cm, 20 cm, length: 50 cm - 100 cm.
(Large coil) Width: 1.0 m - 2.5 m, length: 10 m - 30 m.
Corner lath: width: 5 cm × 5 cm, 7.5 cm × 7.5 cm, length: 250 cm.
Strip lath: width: 10 cm, 15 cm, length: 250 cm.
Application
Expanded metal lath is widely used for internal and external plaster work in architectural project or home improvement.
Package
Expanded metal lath is usually packaged 10 sheets per bundle and 25 bundles per pallet, or packaged as per your requirement.
Inquiry for Our Product
When you contact us, please provide your detail requirements. That will help us give you a valid quotation.