Black Expanded Metal Mesh as Security Gates/Door
Steel expanded metal security door is made of rigid steel expanded metal with small openings that makes an effective insect screen with enhanced security. Certainly, door frame, cross brace, hinge and staple are all necessary fittings. Door frame inlays heavy duty expanded metal mesh for adding security or ventilation. We provide expanded metal mesh that are 18" of width and 78" of height,which suits for 3' × 7' door frame. Brace and cross brace are used to stabilize expanded metal mesh onto the door frame. According to the direction and position of hinge and stop, four types of expanded metal door are available: left hand, right hand, left hand reverse and right hand reverse.
SEMSD-01:
Black painted expanded metal mesh made office door.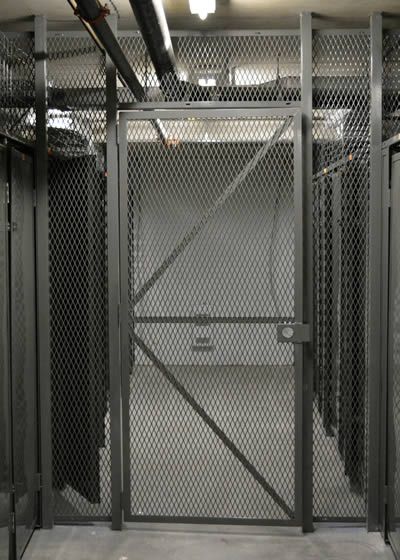 SEMSD-02:
Expanded metal mesh made industrial cell, door frame and gate.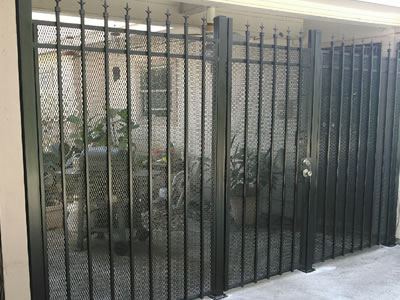 SEMSD-03:
Rinforced residential expanded metal gate.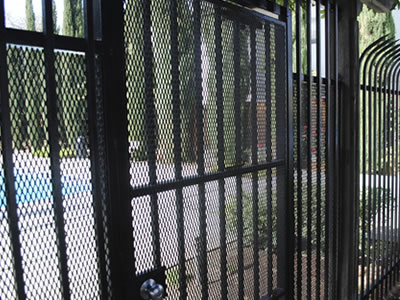 SEMSD-04:
Black expanded metal mesh made perimeter fence gate.
SEMSD-05:
An installed black painted gate with door lock installed.
SEMSD-06:
White expanded metal mesh made gate frame top.
SEMSD-07:
Rigid black painted expanded metal mesh.
SEMSD-08:
Flattened expanded metal mesh is coated golden.
Specification of expanded metal security door:
Material: carbon steel.
Wire gauge: 13 gauge wire.
Mesh opening: 1/2 inch diamond shape.
Expanded metal pattern: flat pattern.
Coating: powder coated black.
Expanded metal mesh size: 18" of width and 78" of height.
Also available in other sizes: 18" of height and 30" , 32", 34", and 36" of width.
Matched accessories:
Frame top: angle, 6 × 3-1/2 × 5⁄16 in.
Staple: round bar.
Door frame: angle, 1-1/4 × 1-1/4 × 1/4 in.
Brace: 1-1/4 × 1-1/4 × 1/4 in.
Cross brace: flat bar, 2 × 1/4 in.
Stop: flat bar, 4 × 1/4 in.
Pad: flat bar, 4 × 1/4 in.
Hinge: 316 stainless steel, swaged butt, plain, fixed pin, 3 × 2-1/2 in.
Temporary brace: angle 1-1/4 × 1-1/4 × 1/4 in.
Feature:
It available in other distinctive mesh patterns except for diamond mesh, like hexagon, square opening and combination of diamond and hexagon openings.
Power coating guarantees a long lasting protective and aesthetic effect.
The uniform mesh openings permit a free passage of airflow, light and sound.
The expanded metal mesh is made from a integral piece of steel without welds.
It is more resistant to breaking and cutting, thus provide greater security.
Its stronger than traditional plastic screen meshes.
Application:
Steel expanded metal security door is suitable for installation in expanded-metal bulkheads, structural bulkheads, and structural arches.
It is suitable for office, industrial and industrial space.
Inquiry for Our Product
When you contact us, please provide your detail requirements. That will help us give you a valid quotation.