Flattened Expanded Metal Serves for Living Field
Flattened expanded metal is made by passing standard expanded metal through a cold rolled reducing mill, leaving a flat and smooth surface that is similar to perforated metal. The rolling process makes the strands and bonds down, thus reducing the thickness of the metal sheet and stretching the pattern. Flattened expanded metal possesses many properties, making it a very versatile product suitable for applications across many industries, such as commercial, automobile and agricultural.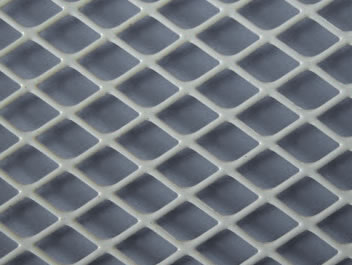 FEM-01:
One flattened expanded metal with PVC coated for anti-oxidation and corrosion resistance, and there are many colours for choice.
FEM-02:
Flattened expanded metal is made by passing the raised expanded metal sheet through a cold rolled reducing mill, and then sent through a leveler to maintain its flatness.
FEM-03:
Flattened expanded metal sheet can be welded into cylindrical shape, whose diameter can vary to meet your needs.
FEM-04:
Flattened expanded metal with PVC coated can be made into bicycle basket, its structure is not easily damaged by the goods in the basket.
FEM-05:
The special opening pattern of flattened expanded metal sheet is suitable for decorative use.
Shearing methods
Expanded metal shearing methods include four ways from two directions. They give you an instruction when ordering expanded metal.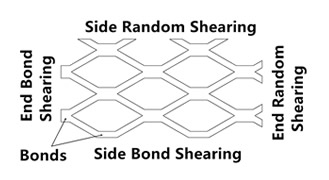 FEM-06:
Flattened expanded metal can be sheared within two directions - side and end.
End bond shearing
One end is cut on the bond parallel to the SWD, the other end usually has open diamonds.
End random shearing
The shearing direction is parallel to the SWD. The end random cut normally leaves open diamonds at the ends.
Side bond shearing
Side bond cut is made along the length of the metal sheet on the center line of the bond over the specific width.
Side random shearing
Side random shearing is cut that is parallel to the LWD dimension of the metal sheet, leaving opening diamonds.
Feature
Steel construction provides strength, welded ability and wear resistance.
Stainless steel for corrosion resistance.
Various materials and a great variety of sizes, styles for choice.
Cost effective way for many applications.
The outer layer can be coated any color for pleasing appearance.
Specification
Material: carbon steel, aluminum, stainless steel, copper, or other alloys.
Surface treatment: galvanized, powder coated, PVC coated, etc.
Specification - flattened expanded metal
Style
Strand thickness
Strand width
SWD
LWD
SWO
LWO
Open area (%)
FEM-1/4"#18
0.040
0.087
0.255
1.030
0.094
0.689
40
FEM-1/4"#20
0.030
0.086
0.255
1.030
0.094
0.689
46
FEM-1/2"#16
0.050
0.103
0.500
1.260
0.250
1.000
60
FEM-1/2"#18
0.039
0.109
0.500
1.260
0.281
1.000
68
FEM-1/2"#20
0.029
0.070
0.500
1.260
0.375
1.000
72
FEM-3/4"#13
0.070
0.119
0.923
2.100
0.688
1.782
73
FEM-3/4"#14
0.060
0.119
0.923
2.100
0.688
1.813
70
FEM-3/4"#16
0.049
0.115
0.923
2.100
0.750
1.750
75

Note:

All the dimensions are measured from the material of carbon steel.
All dimensions in inch.
Application
Flattened expanded metal has many applications such as exhibition stand, dust bin, decorative mesh, garden bench or table, outer layer of filter, etc.
FEM-07:
Tables and chairs made of flattened expanded metal are commonly seen in gardens, they have high rigidity as well as pleasing appearance.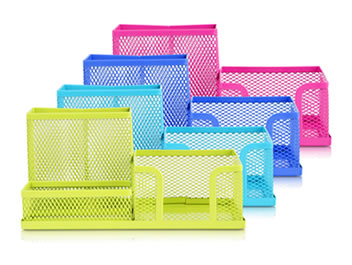 FEM-08:
One of the flattened expanded metal applications is the pen case, which is used for holding stationery, and the colorful PVC coating offers pleasing appearance.
FEM-09:
Dust bin is another flattened expanded metal application, it is indispensable for office and family use.
Package
Expanded metal mesh is usually packaged with pallet or wooden box, and other ways of packaging are available.
FEM-10:
Flattened expanded metal meshes are packaged on the pallet, with every fifty pieces per bundle.
Inquiry for Our Product
When you contact us, please provide your detail requirements. That will help us give you a valid quotation.