Security Fencing Protects Against Break-ins/outs
We provide you with expanded metal security fencing made of steel expanded metal, which creates a formidable barrier commonly used in residential and commercial industries. Designed to offer the maximum in protection while providing visibility, strength and ventilation, security fencing has been an indispensable facility in interior or exteriors areas. Expanded metal can be made with various sizes and shapes of openings, the smaller opening size of the diamonds, the more difficult a fence is to climb.
Expanded metal can be used as highway security fencing, for it can prevent illegal intruders entering the highway, which brings dangers to the traffic.
Steel expanded metal is commonly used as security fencing for large companies, which isolates them from the outside and prevents thieves entering the company.
Expanded metal staircase railing can protect people from falling off the staircase, also plays a role of decoration.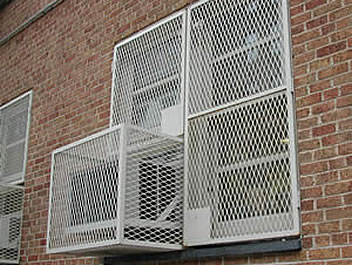 The window guards, constructed of expanded metal, efficiently help prevent thieves entering or small child falling off the windows.
Feature
The uniform openings of expanded metal permit free passage of air, light, heat and sound, while offers barrier for intruders.
Expanded metal construction provides strength, for anti-climb and anti-impact.
A variety of materials, sizes and diamond patterns to fit any design or application.
It could be PVC coating for pleasing appearance as well as protection for valuable things.
Resistant to abrasion and corrosion, even used in harsh environments.
Easy and fast installation and long service life.
Specification
Material: low carbon steel, stainless steel, high strength alloy steel.
Surface treatment: galvanized, PVC coated (black or green, customized colours are available), epoxy resin coated, anti-rust paint, etc.
Dimensions:

Material gauge: Ranges from 9 gauge to 18 gauge (raised pattern or flattened pattern).
Diamond patterns: 1/2" - 14 gauge, 1/2" - 13 gauge, 3/4" - 9 gauge, 1.5" - 9 gauge, 2" - 9 gauge, etc.
Fence panel sizes: customization.
Application
With advanced ability for security and cost effective, expanded metal security mesh is a popular alternative for many industries where need critical protection:
Server or data rooms.
Specimen storage.
Government offices.
Mechanical equipment protection.
Expressway fence.
Airport security.
Military facilities.
Window grilles.
Door guards.
This kind of yellow security fence is usually installed out of dangerous construction site or electrical equipment, to warn persons to stay away or not to climb.
Green security fencing protects the green plants as well as easing drivers' visual fatigue.
The white isolation guardrail acts as security fencing for the motorway of two directions, its expanded metal fabrication also has decorative effect.
Inquiry for Our Product
When you contact us, please provide your detail requirements. That will help us give you a valid quotation.